You are here
Who We Are
About Primary Data Solutions
Primary Data Solutions is a data systems and fundraising consulting company located in Springfield, Virginia. Since 1994, we have developed software to support fundraising, offered data processing services and consulted on fundraising programs for our non-profit clients.
We develop intuitive systems to help manage telemarketing, caging & data entry, mailshop fulfillment, donor management and other fundraising-related needs.  Our experience in direct marketing, high-dollar fundraising, political campaigns and event management has allowing us to craft systems expertly aligned with the needs of non-profit organizations.
PDS Membership
In 2000, we were approached by a client to develop a comprehensive donor and fundraising management system to solve the many problems that resulted from maintaining different systems for caging, major donor fundraising, direct mail fundraising, bluebook project tracking, telemarketing management, FEC reporting and fulfillment services. Years of user feedback and enhancements has resulted in a comprehensive, customizable system that elegantly handles all of the fundraising and donor management needs of the largest non-profit organizations. This system is now available commercially as PDS Membership.
Executive Staff
Dan Goodwin
President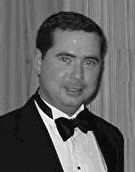 Dan has extensive experience designing and managing donor management systems, direct marketing programs and caging & data entry operations. His experience covers virtually all aspects of fundraising and campaign management, including crucial knowledge of how to steer through the intricacies of direct mail, telemarketing, political campaigns, grassroots lobbying, USPS regulations, IRS nonprofit & PAC regulations and federal & state campaign law.
Lead Developer of PDS Membership, Dan Goodwin is also a speaker at national software developer conferences, he mentors other programmers on a diverse range of software projects and he has authored several popular developer productivity tools. Dan has combined his deep knowledge of fundraising and marketing with his skills as a developer to create systems engineered from the ground up to meet the needs of professional marketers and fundraisers.
Beth Newberry
Vice President of Client Relations
Since 2010, Beth has leveraged her decade of experience working in campaign and non-profit fundraising to help support our clients.  She has worked in major donor cultivation, direct mail, telemarketing, event planning and database management.  Her experience allows her to show our clients the best way to utilize PDS Membership to achieve their fundraising goals and helps users navigate the often confusing world of campaign and non-profit fundraising.  As the Vice President of Client Relations, Beth works closely with all of Primary Data Solutions' clients to ensure their needs are addressed and questions are answered promptly and completely.  
Tracy Flores
Office Manager
Since 2001, Tracy has managed the Primary Data Solutions office, handling bookkeeping and generally keeping the trains running on time.  Prior to coming to work for us, Tracy worked at several large, national non-profits where her duties included managing matching grant requests, bluebook project managment, major donor fundraising support and other administrative rolls.